Two hundred Dragsters and Drag Bikes
from the Sixties and Seventies
*Look for
labels: new additions.
If you spot your own photographs being 'stolen' and offered as prints on e-Bay, here's how to complain:
http://www.ehow.com/how_2050031_file-complaint-ebay.html
One of us has already had a sale stopped ---
:-)
Remember this publication?
Thanks to George Robinson, who has (1) safely kept his copies of the famous BHRA newsletter for fity years, and (2) kindly scanned some for this website. It has taken me AGES to work out how to organize the scans and get them into accessible pdf form [my lack of basic computer skills, not George's fault], but at last I will be adding the scanned pages to this site.

Here is my first attempt, which has the last page first, but the rest are fine! KOOL KAMS for May 1965, 28 pages.
How about this news in November 1965?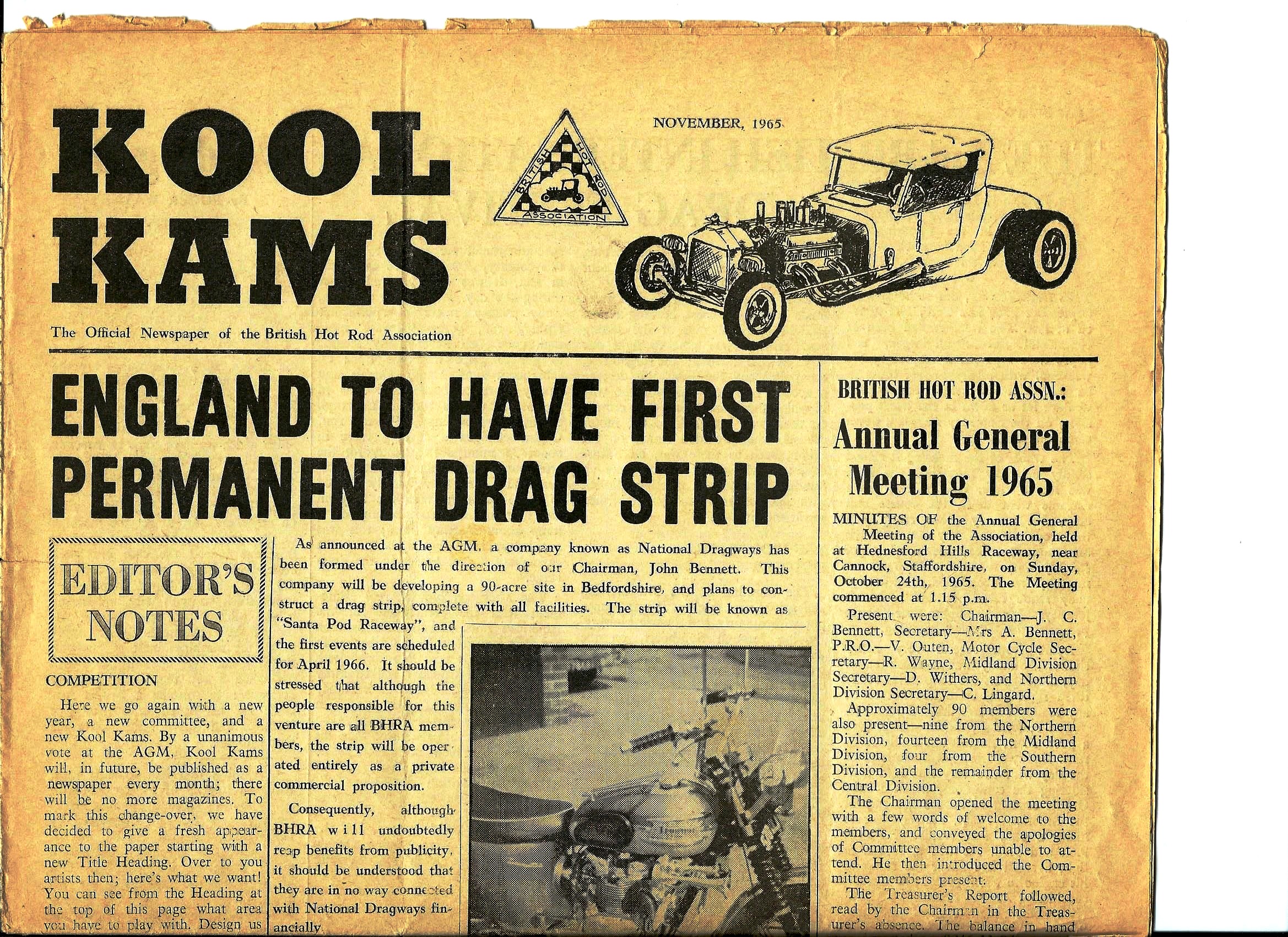 Here are the six pages of that issue. Scanning of the large broadsheet format required them to be processed in top-and-bottom halves
:
=================================================================================
1965: The "Yanks" return
In 1964 Britain had properly woken up to drag racing. The mechanical expertise and enthusiasm was already there, and the BHRA had some wonderful home-built machinery, but the sport remained 'under the radar' until the 1964 Drag Fest. It success encouraged a group of organizers to do a repeat in 1965, which a mix of terrible weather and inexperienced club management did not help.
Here is a pdf of a scan of an issue of DRAG RACING MAGAZINE from that year, which was kindly sent by one of the brave USA drivers on that team, Merek Chertkow, a 19-year old drag racer who handled the MOONSHOT top fuel car.
--- and some photos from that magazine: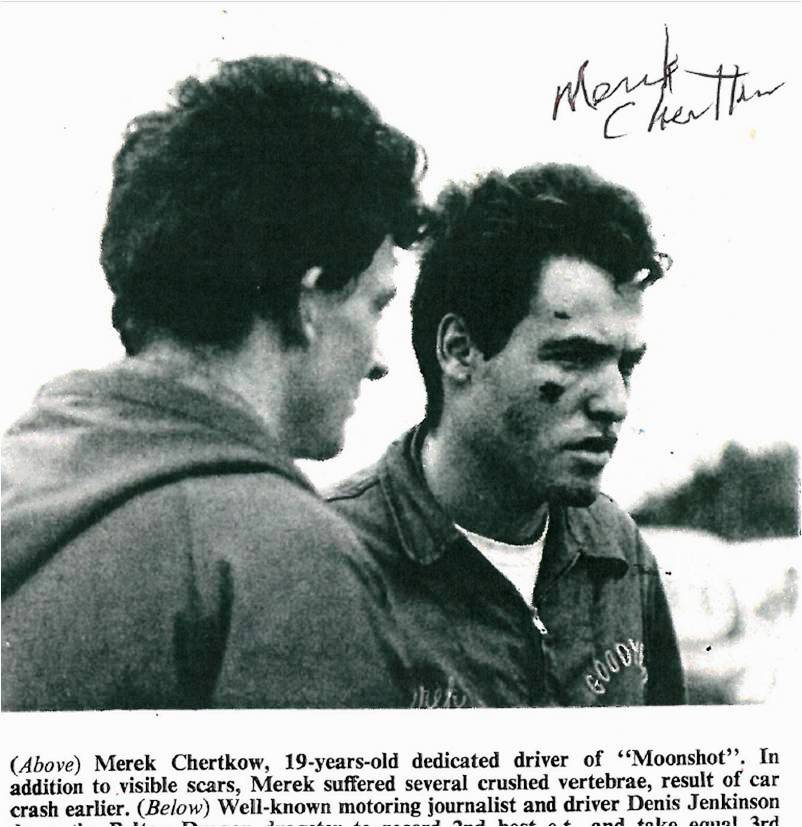 Below:
Chuck Griffith
drove STARLITE III
Bob Keith drove the Dos Palmos car, and bravely switched from gas to a cautious methanol-nitro m,ix to put on a show.

Howard German

gave Americans and Brits a surprise with the DragWaye, never before or since attempted as far as I know.
My thanks to
Merek Chertkow
:
"He came, he saw, he conquered"
, all while badly enough inured by a car crash that he had to be bodily helped into his dragster!
==============================================
Mystery Drag Bike: help?
This supercharged Triumph is now with its third owner, who wants to identify its origin. The racing numbers are believed to be original, from the late 60's / early 70's. The first owner-builder is believed to have been from Lincolnshire -- nothing else is known. The bike has not been raced for many years. If you have any good guesses or can point me to a likely source, please
contact me
.
Two bmp images:
One
; and




ANSWER! JANUARY 2016

: thanks to

Rob

who just sent me photos of this bike from the 1980s and 1990s when he and his brother campaigned with it at NDRC and NSA meets at Long Marston, Westonzoyland, and Smeatharpe, and at an air show at Dunsfold. In an unfortunate incident the overbored Triumph motor had an oversized liner slip down the bore, and it necessitated a major rebuild, which Rob did using new Carillo rods. The bike was a 10.5 sec performer in the quarter. It was sold on to an enthusiast in Todmorden at the end of the 1990s.

March 2012 Update
:
Blackbushe in the Sixties and Seventies
Help with cars and drivers, please?
My thanks to stock car and drag racing fan Mike Shonfield for these photos. If you recognize a car or have some info,
please contact me
.

First, six from the first Drag Fest:
Tony Nancy's beautiful streamlined "22Jr" that was written off at the Chelveston meet.
22Jr again in close-up.
The many-names / many-owners Chevy rail, known at one point as Dos Palmos; it still exists today. See more of it further down this page.

JANUARY 2017 UPDATE:

in the background of that photo is an extremely rare sports-racer, car 165 which is the

Willment Climax

of JW Coles. Barely half a dozen were ever built. The chassis, wheels and transmission were designed by John Wadsworth who later became involved with the WRE-Maserati. The body was probably by Williams and Pritchard. The engine was said to be 1666cc, an odd size, which may be a modified FWB Climax.

Car 164, almost out of shot, is Arthur Mallock (U2 Ford). Car 162 is the 1650cc Lotus 7 of DE Bridges. The car directly to the rear of 165 is the Lotus Bristol of CW Drake

.

[Tech. information kindly provided by a historic sports car enthusiast.]


Who is this? I can't quite make out the name. NICK COLBERT, thanks, Jon Sewell! Colbert was not only manager of a Colorado drag strip, he was son of the then-President of the Chrysler Corp!
These two cars rang a bell for me, as I knew them 'way back then. Pete Bartlett's Chev versus John Bennett's Pontiac, both BHRA drag pioneers and organizers. John's Pontiac (usually raced by his wife Ann) was a 1958 model with a 389 motor and three twin-chokes. Pete's is a 1959 Chevy Impala running a 348 inch engine.

Thanks to Chevy specialist Ray Buck of California for pinning down the model years. Maurice Takoor informs me that a "replica" of Pete's big Chev is being built right now.



Now five photos that "may" all be at Blackbushe [RAF Wroughton was also cited, but that was a treeless plateau] in the mid seventies --- but again I'd be grateful for info or corrections.

I believe this is Dennis Priddle's "Mr Revell" dragster, with Clive Skilton's dragster in the other lane.
The "Hillbillies" funny car boils the hides.

"Dad, can I have a go?"

A young hopeful stands by this injected big block rail;

February 2014 update

: thanks to Keith Lee for identifying that slingshot as Bruce Brown's AGE MACHINE. First built by Alan Herridge with a 327 motor for Pete Bennett who raced it in 1971, it then went to Roz Prior who raced it in 1973, and by 1974 had a 454 big block motor. In this photo, however, Bruce Brown's name is on the side, and I think that motor looks like a BB "rat". Help, anywone?

January 2011 update: "Our Books"
If you were there, like me, in 1964, and are trying to hold onto all those memories ---- Brian Taylor has the answer. If you remember characters like Brian Sparrow, Pete Bartlett, Vic Outen, John and Ann Bennett, and Phelps father-and-son --- get hold of this book: Crazyhorses
Packed with high quality and unusual photos, spanning fifty years (yes) and with the kind of technical and personal facts that come from "being there", this large format 220+page hardback is from Haynes Publishing. No matter which years or decades your early drag race memories come from, you'll find them here.
I trust Brian and his publisher will excuse me giving you ONE 'taster' from Crazyhorses, to show the kind of unique photos it contains. Here is the John Bennett snapshot, from 1963, of the first Dragster Developments slingshot. DD was a collective of hot rodders who installed a 1938 Buick straight-8 motor, for the late Allan "Bootsie" Herridge. Psst: Brian's book even reveals where "Bootsie" got that nickname ---.
More happy memories of the pioneer days, thanks to Nick Pettitt, who is a devoted enthusiast of, especially, the 'minor' do-it-yourself pioneers who characterized early British drag racing. His book is: British Drag Racing: The Early Years. Front cover, and back cover (showing publisher's details). I take the liberty of showing a sample from the book [excuse my poor scanner] --- those pioneers knew no fear.
April 2011: Thanks to Brian Stewart, an engineer who cut his teeth with the Brise family, working with the late F1 racer Tony Brise at his AUTOCAR concern in London (they had tuned the 1960's #24 Alan England stock car). Johnny Brise's two sons Tim and Tony both raced, and Tony went on to F1 Grand Prix with the Graham Hill team. Brian has been engineer on F1 Grand Prix and on Indy car teams --- he knows what he's talking about. Today he runs AUTOCAR SPORTS AND CLASSICS in Indianapolis, [ www.eurocardoc.com ] handling exotic and ex-racing cars. Check out that website --- this man is a professional. Brian recalls the oval races at Wimbledon, listening to Johnny Brise's reminiscences of early stock car racing, and his own youthful memories of sleeping four in a small Morris at Blackbushe, where some of the following photos were taken in 1968. If you were on the drag racing scene in the early days, please e-mail me if you recognize a particular car and driver.
Allard Dragon raising spray, driven by Chris Patterson; memory links that name to the lucky contest winner of an Allard Dragon in an early promotional scheme.
Britain's most famous four-banger slingshot in the pits: Harold Bull's Stripduster
The two photos that follow below have been identified by Rupert Lloyd Thomas. The dragster had a 1500cc "pre crossflow" motor and was built and raced by Les Turner who had his own engineering company based at Hampton Court. Les was a "sports-jacket gent" who drove a Rover push car.
Rupert: 'One of the best turned out cars of that era with green frame and alloy panels.'
The car set international standing-start records at Elvington in 1967 in Class F:
1/4 mile in 11.06 sec. // 500m in 12.53 sec. // Kilo in 20.2 sec. // Mile in 29.62 sec.
---
---
The engine:

Alex Postan

kindly sent me photos of the supercharger from this dragster, temporarily mounted on a non-original 120E block. In the fourth photo you can see Les Turner's company name embossed on the blower plate. One. Two. Three. Four. and below:


January 2013

What happened to the dragster and its engine?

Jon Sewell
purchased the car in the late 1970's and was so impressed by Turner's superb block work with its billet steel crank and rods, flywheel and sintered clutch in a Lotus alloy bellhousing, and an Lotus alloy diff. --- that Jon realized this could be a terrific National Hot Rod motor, and it went into
his #222 hot rod which he took the the Spedeworth wars
racing against the likes of George Polley.
The Turner rail had been one of two dragsters being stored for a friend as a favour in Jon's "garage", until 1979 when Jon moved out. At this point his friend took away the blower [above] and cylinder head. The chassis, temporarily stored in Addlestone, Surrey, was bought by some enthusiasts who had a car but no trailer --- so they pushed it by hand all five miles Woking
:-(
Jon says the dragster
"was a work of art, even the bellhousing and diff were polished"
. As for the engine, he bored it out to 1600cc and fitted the necessary cross-flow head and flat top pistons.
"It was so oversquare it would rev as high as you wanted but had no torque."
So here is Les Turner's motor with a new top end and in a very different race car, continuing its racing career until 1985:
So where did the chassis go?

It was raced by Calvin Evans in the mid-90s, in the Wild Bunch group, with a modified roll bar and coil shocks at the front; the car now is in Holland, with a Pinto engine, or at least it was: Read the illustrated story on the excellent drag archive

UKDRN

: http://www.ukdrn.co.uk/forum/viewtopic.php?f=5&t=22



Alex Postan

who still owns the supercharger and manifold, also has a 'correct' 116E motor waiting and would love to get all the components back together in a recreation of the Turner slingshot. Alex is an inveterate restorer and driver of 'old' motor sport vehicles, and can be contacted at
alexander@postan.plus.com

My thanks to these enthusiasts for assembling the story of this famous little dragster.

By the way, the intrepid Les Turner climbed onto two wheels in 1969, campaigning a superbly-built 750cc Triumph drag bike called "Soopa Doopa".




============================================================
April 2011:
Photo from hot rod pioneer Tony Whitehouse.
Ken Cooper's flathead flyer again
lined up in the staging lanes beside Fred Whittle's SHUTDOWN altered.
Nobby Hills Houndog III
J.A. Pearce's 250 GTE model Ferrari [identified by enthusiast Christian from France], of which only 1,000 were built, among them just 55 right hand drive versions. A Ferrari website poster identifies it as 250GTE chassis # 2325, a Maranello Concessionaires demo car, which was road tested by Autosport magazine in issue 16 of 1961. Think of repair bill for that smashed headlight ---.
J.A. Pearce also brought along this big Healey 3000 , which looks like a works rally car; but Christian P. points out that this does not have the squared-off rear of the works cars --- perhaps it is someone's V-8 conversion? The front wheels don't fill the wheel-arch extensions, so its rally/circuit wheels may have been removed for drag racing. J.A.Pearce was an expert ex-Cooper welder who had his own engineering company, produced "Magna" mag wheels, did lots of circuit racing, eventually being involved with a Cooper-Ferrari Grand Prix project.
To the right of the Healey is another J.A. Pearce entered car- a very rare Ferrari --- model, anyone?
Quick response! Christian P. identifies it as a Ferrari 250 GTO --- the rarest and most prized GT car on earth. Ferrari built only 39 of these cars, and you need to be a multi-millionaire to have a hope of buying one at auction, and only if you are very confident that the GTO is really truly an original ---- with auction prices far over $10 to $20 million, one or two dubious "extra" GTO's have surfaced from time to time --- buyer beware. It is almost certainly chassis # 3729. This one is from 1962, and at the time of the photograph may have been entered by Pearce on behalf of its later owner Neil Corner: http://www.barchetta.cc/german/pirro/SN/3729GT/250.GTO.3729GT.010.htm
Ken Cooper's flathead V-8 Bazooka.
Sports-racer Is this a Lotus / Cooper / E-Type hybrid? Thanks to the expert posters on the Autosport.com Nostalgia Forum: The car is a 1959 Costin-bodied Lister, fitted with a 3.4 litre Jag motor. Original owner Mike Anthony had a Chevy motor, then the Jag. Probable owner in this photo was Mike Pendleton, who reg'd the YCD number. It was raced successfully as a Historic car as recently as 2004.
Ken Bunce's 2.4 litre Jaguar slingshot
Lotus Super Seven streamlined for action (or just sheltered from the rain?) of K.M. Obee.
Rat Catcher: a home-brewed sports car that featured a Jaguar motor and 4-wheel drive; it was driven by Colin Kettley, who later built a superbly engineered Mini pickup with a mid-mounted fuel-injected hemi V-8, called HEMINI of course. Colin later developed the ungainly Rat Catcher into a street machine, incorporating Allegro front wings, and it was last seen (thanks, Jon Sewell) parked not far from Pat Willis's famous garage in Virginia Water [for drag-only fans, the name Pat Willis is legendary in stock car racing.]
Dear old "Kool Kams", the BHRA's newsletter.
February 2011: "Only in England". Photo print courtesy of Andy Temple. The 73 car is the side-supercharged WorDen, just lifting the front wheels. The 66 car is a unique device with a 2-litre 6-cylinder Bristol engine, run by Colin Glass. The Bristol long-stroke engine was based on a pre-war BMW design, with alloy hemi head and a unique arrangement of eighteen puhrods in all, of which six were short stems bridging the cylinder head to operate the exhaust valves! Mass produced? Not likely --- Bristol built just 2,500 of these engines in 15 years.
Site is almost certainly Blackbushe.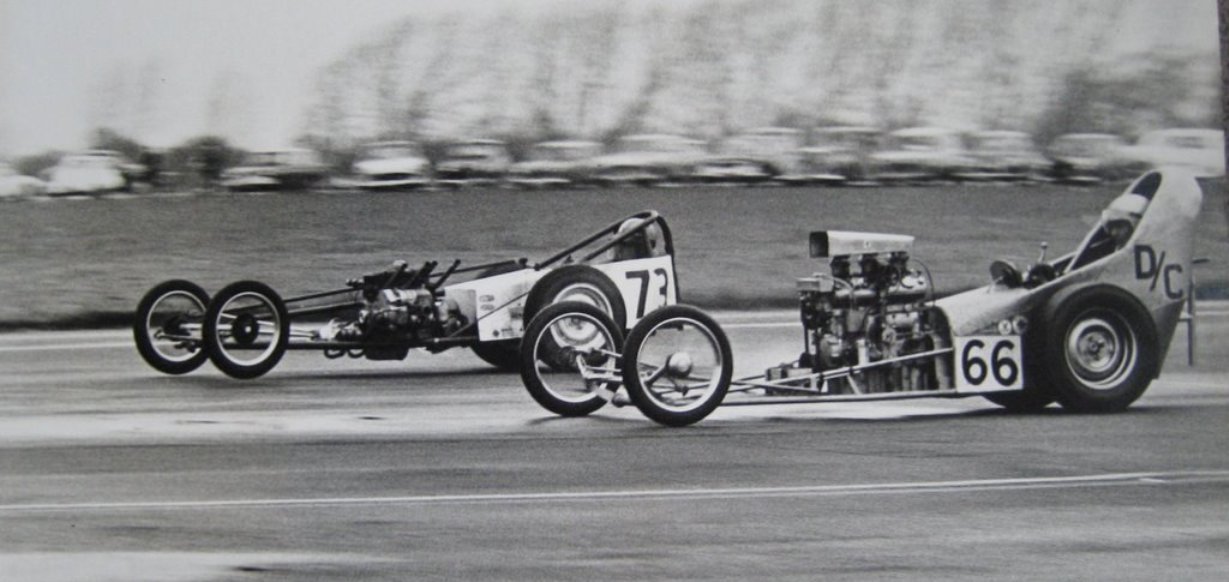 "Worden" dragster again, on the strip, courtesy Brian Stewart
Three dragsters from the early sixties: two visiting Americans and one brilliant British slingshot.
Above: yes, it's "Mooneyes", brought over by Dante Duce.
Above: Mickey Thompson's Ford-motored machine; see the puzzled expressions of the spectators.
You didn't recognize that one, did you? Paul Manders from Liverpool, ex stock-car racer and later serious funny-car racer, built this sophisticated slingshot, with TWO superchargers, in about 1964.

[Note:
All three photos occur as links with notes later on this page.]
One more attention-catcher: where but in Britain would someone dream up this fearsome device?


December 2010:
"Sprinting is

not

the same as drag racing." Confustion between the two cultures generated friction while drag racing was being born in the UK in 1964. Rob Carter has kindly sent scans from Duxford NSA programmes, and you will recognize some famous names from the Sprint community on the second page shown.

February 2015 UPDATE:
That Duxford cover shows

Ernie Woods

on his JAP 1,000cc V-twin,

"Thor"

; Ernie also ran his 500cc bike at the event.

Thanks to Ernie's son Trevor Woods for the info.

"Thor" was custom built in 1953 specifically for sprints, but was nicknamed by Ernie when he acquired it in the late 1950's. Ernie "retired" the bike in the 1970's, but it has been restored by new owners and has run at the Brighton Speed trials. Another Duxford photo of Ernie, showing Trevor on the far right.
At one of the first USA team events, a couple of British sprint experts were very angry to be told that they had lost races in which they were both faster and quicker than an American rival;
like true sprinters
they had

waited

an instant to make a perfect take-off.
Two perfect sprint bikes: George Brown's Super Nero (supercharged Vincent) and his son Tony Brown's unique Arial Arrow 350 twin 2-stroke sprinter. Photo retrieved from http://motorbike-search-engine.co.uk/classic_bikes/1963-super-nero.php



August 2010:
Rick Young was not only a stock car racer in F2s and F1s --- as a youngster he also helped out with an early British Altered coupe, THE LIQUIDATOR: a chopped-roof Popular. After running "only" a Jaguar engine in it, the team of Chick Barrett and Mike Cornelius stuffed a big Ford V-8 in, and added four fat SU carbs on top. Here it is outside someone's garden.


At the very first 1964 Drag Festival,

Brian Read

was doing work for STP Oil Treatment, the major sponsor, which included the pleasure of driving round Britain to various races and shows, in this Studebaker Avanti as a promotional vehicle. STP was part of the Studebaker Corporation at that time. Brian remembers push-starting the blown fuel dragsters (think: 'zoomie' headers), and on several occasions the Avanti was showered with a "rain" of raw fuel. The car was registered under 971 HLR. Studebaker built fewer than 5,000 Avantis betwen 1962 and 1964, and the circular headlight surrounds in this photo show that it's a pre-August 1963 car. At the time it was a fairly revolutionary design, having a fibreglass body. Brian recalls doing a couple of hair-raising demo laps on the shale at Matchams Park, and again at a speedway track --- not exactly what the Avanti's designers had in mind. The car was also raced at Silverstone, with extended wheel arches and fatter wheels. Brian comments that although

STP

sponsored that drag festival, Don Garlits walked away with the trophies for his

Wynns Friction Proofing

sponsored Swamp Rat. The Avanti
later 'emigrated' to South Africa for further STP promotions.
Mark Crisp

sends these two classic 70's photos of two great cars "boiling the hides". First the Stones Tee-Rat at Santa Pod. Second, a rare photo of a rare visit: on the Silverstone circuit's Club Straight, Dennis Priddle threatens to blow the roof off the Woodcote grandstand as he stomps on the loud pedal in "Mr Revell".


February 2010: LONG MARSTON ---

Mark Crisp

watched the racing when in 1980 the 'National Drag racing Club'
[the names and groups changed constantly in the early days] put on a big drag race at Long Marston, and Mark's programme gives us the names and the vehicles: Lavishly illustrated Cover;

Trivia: it costs 25 pounds to land your plane at Long Marston Airfield, and you are asked NOT to fly over the nearby prison at Long Lartin ---.
The drag strip uses the SW end of the main runway, under the name Shakespeare County Raceway (previously 'Avon Park Raceway'.) Don't confuse this with Long Marston in Yorkshire, which also has an airstrip.
Don't worry about the planes at LM or at any airstrip. There was a famous incident in 1983 in Canada when a Boeing 767 ran out of fuel at 40,000 feet over Manitoba and the pilots spotted a tiny disused airfield, and glided in to land safely --- in the middle of a drag race meet, whose competitors kindly scooted out of the way when they saw the big bird wiggling its wingtips.

More Mementos from Mark--- does anyone have a collection of Santa Pod pit passes like these?


Thanks to Barry Redman for this bit of nostalgia, a 1964 Blackbushe programme cover --- which brought back for Barry the teenage memory of a 40-mile round trip by bicycle from Slough, with fellow stock-car-racer-to-be Pete Webb.

Thanks to Mark Crisp for unearthing these two drag-race posters from 1970 and 1971. Who knows where "Martlesham Heath" is? Of course you knew it was the decommissioned RAF fighter base near Woodbridge in Suffolk, and the NDRC ran a meet there on 3rd May 1970. The airstrip is now buried under a "new old village" development.

In 1971, the NDRC ran this Blackbushe meet on 8th August. Mark also has this Santa Pod programme cover from 15th June 1969, showing the Marshall-Dickson "Good Vibrations" Pop.

Whose is this? I came across it on the NHRA website, and its is clearly a British scene, with the old WW2 control tower in ruins, ancient runway surface, and the very English-looking students, along with 'someone's-dad'. I am guessing 1964-ish, and it is similar to a flathead V-8 rail around that time called "The Clanger Special", which even ran some hill climbs. Anyone recognize it?

Sixty-plus coupes / altereds
In 1965, Perkins Diesels (Peterborough) Open House had the Wright brothers of Lincolnshire bring their two hot-rods; this one is a bright yellow Rolls-Jag-Austin abbreviated pickup. It also raced at Duxford and Santa Pod. John Wright's car was based on a Jaguar MkVII. "I chopped the chassis off both ends and fitted transverse Ford springs and reversed wheels," he says. "We put an A40 pick-up truck cab at the back end. It was road-registered as a Rolls-Jaguar because we had a pre-war Rolls-Royce radiator cut down on the front --- Rolls didn't bother about it." .
A treat here from Paul Hicks: the Ford Model Y was Britain's classic hot-roddable car, and among the enthusiasts who chopped and customized Ys were members of Manchester's

Dragons Hot Rod Club.

First, the Model Ys of Clive Lingard and Mike Butler. Then, in 1964 the BHRA put on "The Big Go" at Duxford, and here is Clive's Y taking on a mini. See those neat exhausts? It was the ordinary Ford side-valve, with twin carbs, and Clive put in some respectable 21-sec runs --- and before anyone grins, I recorded a near-new Anglia that same year, doing 21 seconds with its
105E ohv motor and streamlined body. Close-up of the engine compartment.
Before-and-After:

--- scroll down to see what Britain's early hot-rodders could do.


The rad grille is now from a Morris, the motor is a whopping 425 cu.in. Oldsmobile, driving a Jaguar gearbox and Jaguar rear axle, and Avon Turbospeed tires --- but that canvas top stayed on. Paul
ran this rod at the 1965 Drag Festival. Paul and Clive were founder members of the

Dragons

club and competed in both the '64 and '65 festivals.
Mystery car? I've had this snapshot (approx 1965/66) for years, an early Santa Pod pic, and never identified the car or engine or driver. Looks like it could have a Jag 6-cyl under the hood. Simon Ambrose kindly identified the body as a Microplas MISTRAL, possibly on a Buckler sports car chassis. Simon believes this car may later have used the 'little' Daimler 2.5 litre V-8.
David Montgomery has donated many photos to this site, and here it's the Allard Dragon Anglia. In 1965 I watched a team of Allard mechanics furiously installing a supercharger from a Dragon onto a Corsair -- a rush job that allowed no time to re-jet from methanol to petrol.
Thanks to hot-rodder Brian Lucas for these snapshots from 30 years ago:
"Invader" was the name. Colin Mullan's car circa 1974, Firenza body hiding a 283 small-block.
May 2010: Mark Crisp sends this photo of the same car. [Mark was watching at the 'Pod when the Hillbillies Vauxhall flipped over the guard rail at high speed --- those were the days!]
Dennis Priddle and Ed Shaver both drove "The Sizzler", but the engineering was Mark Stratton's; it had a 427 cu.in Chev motor.
This competition altered (and it was rather 'altered' in this pic) was called ITSAVIVA. In 1973, this 288 cu.in Chev powered car had just rolled 5 times after its chute caught a cross-wind. This is the same Vauxhall Viva. Alan Wigmore rolled it at 120 mph, sheared off a wheel, shifted the motor in its mounts, and after climbing out rather bruised, Alan decided to confined his energies to NDRC organizing. The Viva was painted by AW's father who ran Pop's Paints in Stanmore, N. London.
Last pic shows Invader and Wild Thing together in 1972. Collin Mullan raced Invader and Bob Venison/Brian Gibson ran the Wild Thing.
In circa 1974, here's a beautiful coupe called Kerbdozer, at Santa Pod. Charlie Middleton tells me the driver's name was Mike Kason. Thanks to racer Mike Kason for filling in the facts: Kerbdozer had a 427 Ford "side oiler" motor, with which Mike clocked 148mph in 10.71secs. (Later he went big time in a nostalgia fueler at 235mph / 6.4 seconds.) Mike's "red face" moment was in Easter 1976 when a lost pin left Kerbdozer's gearbox in reverse, unknown to him. He floored it and hurtled backwards into his push car in front of 35,000 fans. To add to this, when a frustrated Mike understandably tossed his helmet onto the track, the scrutineer promptly barred him from another run until he'd gone away and bought a new helmet —.
A similar situation: I saw a visiting Swedish gas coupe racing at RAF Wroughton (Wiltshire); its abortive first burnout skidded their car into the christmas tree, dismantling it, and the team were instantly disqualified from the meet ---- a very long way to travel just be be kicked out, and both the Swedes and their English fans were not happy campers that day.
This next section includes over 30 (thirty!) new old photos, courtesy of Bill Taylor, showing great British cars and bikes of the 1969-1972 era at Santa Pod. My thanks to Bill, now like me an "ex-Brit" in Canada, for these photos, which Bill converted from slides: from 32 + years ago, these machines remind us how British racers were learning the ropes of drag racing. Note: it will take me some time to edit and organize and annotate the photos, so if they are in no special order, or lack information, be patient. ALSO, if you have additional facts or stories connected to these machines, please e-mail me
The best of British engineering: The T bucket runs a tiny 2.5 litre Daimler V-8, hemi heads, just behind the famous Minivan 'Stripteaser'; this shot shows clearly Stripteaser's driver sitting against the back door, and the six exhausts in a shrouded stack going up through the roof.
JANUARY 2015 UPDATE: Info from Guy Lowe, a Santa Pod regular who helped out on the Worden team: That beautiful "T" roadster shown above was built by the late Micky Bray; it is a Jago kit, and later Mick fitted it with a big Hemi Chrysler from a Jensen. Mickey Bray also built this famous "Pinball Wizard" Ford Pop: http://www.theminiforum.co.uk/forums/topic/251451-mickey-bray-mini-se7en-pinball-wizard-pop/
Cliff Jones built this 2.5 litre Daimler hemi rod, Opus One, racing it in 1967, then installing a small-block Chevy the next year. Opus One went on to the Stones team. Cliff was busy: he partnered Mike Treutlein with the Crescent Coupe, and raced karts at Rye House with Johnny and Tim Brise, and was a friend of the late Alan Wigmore. Thanks to Cliff for the info and photos. Opus in the pits with underage driver? Opus versus Wild Thing; Opus's beautiful Daimler motor; and Opus on a run / or fire-up lane. Here the Pontiac GTO of Cliff takes on a Jag under blue English skies.
Blown Hemi altered: a serious motor in front of the brave driver of the 'Sneaky' altered, run by the 'Blue Flash' team. Rear end shot. Phil Elson ran the car, changed the body to a yellow T-bucket, passed the blue body on to the Aardvark team of US airman Freeman Rogers who promptly re-painted it in green/brown camouflage.
'Midas Mist' was a Jag powered altered — body looks like one of a legion of fibreglass 'sports car' bodies turned out in the fifties and sixties, most of which went to cover up wheezing 1172cc side-valves — but this one had to work for its living. Midas Mist gets a fast push. This car was run successfully by Rob and Pete Skinner, the fibreglass body being a "Falcon", picked up for a fiver from someone's garden! Its 3.8 Jag engine was a never-quitter for several years.
JULY 2012: I just saw on a forum that Midas Mist was first called "Midas Touch", starting life as a 1957 Buckler Watling Special, with BMC A Series power unit, which in Formula Junior tune made its debut at a 1965 Dragfest. [Forum on DragsterWorld.com, 2005]
Another Jag altered, this one with a Shorrock blower and SU carb. Here is the older version, called Travel Agent, later rechristened "Travel Tee": but not the oldest. Here's a faded b/w photo from my own files from 1965 or '66, showing the car in its earliest form: The body is from a Bond mini car, an aluminium-panelled 3-wheeler, originally powered by with a 197cc air-cooled Villiers two-stroke bike engine. Simple and sturdy, but probably a devil to drive, with the Jag motor (and those lumps weigh about 650 lbs without gearbox) mounted way up because weight transfer was the gospel back then. "Travel Agent" was run by a Surrey team, of driver Alan Sherwin, John Crosby, and Ray Webster. Sometimes wearing a Jago "T" body, this long-lived car was still being raced by Sherwin in 1980, with a Rover V-8. In 1973, a G.Francis was running the car, with the Jag Six lowered to a more sane angle.
Next, Jaguar power again, in the famous 'Stagecoach' altered, an Austin 7 body.
'Metronome' was insanely dangerous-looking, with minimal bodywork and maximum motor. Built by Mark Stratton with a Bond Bug plastic body. Here it lines up beside the Hillbillies Topolino. Hey, look at the push car behind Metronome ----- a Rolls Royce limousine.
The ever popular Popular: 'Motor Psycho'.
Opus was the trade name for a little British hot-rod kit, mostly fitted with 4-banger Cortina engines. This one got stuffed with a fuel-injected big-block Rat Chevy. In contrast, here's the teeny lightweight Pony Express, 4-banger Weber'd, with faired-in rear wheels.
Next, Kevin Pilling's 'Pure Seven' looks to me like an Opus kit. 2006 update: Phil Brown identifies an Austin Seven Avon Special style. The motor is a monster 440 inch Dodge wedge, Carter carb, pump gas, twisting a 2-speed Caddy box and an Olds rear end. Rear mags from a Lola racer, and a Bootsie Herridge front end! Harrison (a genius mechanic) and Herridge both helped a lot. Kevin Pilling Gets the Facts Straight: 2006: The motor is a 413-inch Ramcharger Wedge enlarged to 440, which had replaced a weak Olds lump. The original Pure Seven car cost all of 25 pounds to get to the line at Santa Pod. Kevin had to struggle against its squirrelly behaviour, until one day an engine mount broke and the car ran straight. When the mount was fixed, it went "pear-shaped" again, so goodbye to the right front mount and hello success! Kevin says that looking back on the team's best ever 168mph and 9.6 secs gives him a shiver today: the madness of youth! The car was an Austin Seven rebodied by Swallow. A B&M Clutchflite replaced a destroyed Cadillac transmission. The 440 motor eventually went into a circuit racer, but not before the Rose Brothers had hammered it mercilessly at the 'Pod in their heavyweight Dodge Challenger "Stock". Kevin's engine-building skills were vindicated because the 440 never broke or failed under the punishment.
Thanks to sharp-eyed Bryan Whitfield (himself an accomplished hot-rodder with some monster cars to his credit) for adding facts to my previous brief and inaccurate description here. This photo is of Freddie Whittle's second SHUTDOWN. Until now I had carelessly described this as a "plastic" American Bantam: Not so. Fred Whittle was a genius with metal, and he formed this body from aluminum sheet, including all the compound curves, by hand and using an "English wheel". Bryan reports that Freddie had never seen a Bantam in the flesh, and using as reference ONLY a photograph in Hot Rod magazine and a 16" slick and a 392 valve-cover that he happened to have, for scale, did all the drafting to reproduce this perfect Bantam. Freddie was that very English phenomenon, the reclusive master-craftsman working on his own in a crowded yard with a hundred projects on the go in half a dozen workshops — a fair definition of "heaven" for many of us!
Freddie Whittle's Shutdown Mk I, Chevy-powered Altered. 1932 Ford-based body, 265-inch motor, later upped to a 283. In the background, a basic Jag altered with non-fancy engineering — so many people had so much fun with those cars — you could get something on the strip for under a hundred pounds. The wreckers' yards were full of Jag motors.
Another photo of Freddie's Altered, with different intake setup:
Remember the little square Austin A40? Look at this severely chopped version.
'Wild Honey' injected (Chevy?). Phil Brown has been enormously helpful and patient in supplying many facts for this drag-racing section, and I'm very late in adding this info — that this is a Swedish car piloted by Lars Torngren, which won Senior Competition Altered in 1971.
Here in the mid-1970's, a Fiat Topolino called Crusader.
Next, my favourite kind of race: Kart vs Car. This kart was called "Strip Kartoon", had a 500 Triumph twin engine, driven by a Mr Bottoms – first name -?) Thanks to John Hennessy for correcting the earlier kart identity. John himself raced a "Chicken a la kart" kart, and other wild men in this league were Brian Parkins (Keel kart), Ken Penfold on "Patience", and Pete Mobs also on a 500 Triumph kart.
And a red plastic copy of ---? "Mister Shift". Thanks to Charlie Middleton for identifying it as Vauxhall Victor copy, probably the ex-Hillbillies car once driven by Roland Pratt.
Another mystery car: a patriotic "T" rod in the fire up lane at the Pod in circa 1973. Nick Cleveland does it again: Mick Saunders called his car ANIMAL, ran a 283 Chevy, and did 117 @ 10.9 secs in 1975.
Peter Hyde's snapshot caught not only the world's fastest 1933 Willys "gasser", but gazing at the car on the right, is STIRLING MOSS — whose driving skills were tested when he did one or two 11-second runs in one of the two wild Willys gas coupes during the festival. Dodge Boys: Dave Strickler and Bill "Grumpy" Jenkins bruised our eardrums with this "A/FX" machine. The thing was BIG and it went like the blazes.

And from Mal Hawkins the super-stock Lawman sedan.
Gary Goodnight, a US team member in 1964, identified K.S.Pittman's '33 Willys A/Gas Coupe versus Dave Strickler's AFX.
Here's the ever-popular Popular WILD THING again.
Classic big saloon, a chopped Zodiac called ROCKY II. Your average villain's motor in them days innit, gov. This one was Al O'Connor's car, which had earlier been a street-strip ride. In later versions it grew huge wheels and a regular Zodiac grille. Al was famous for his "AL'S GASSER" Pop, built by Mick Gleadow as "Motor Psycho".
Classic small delivery van: Alleycat is the name, and back then narrowing a back axle was not a do-it-yourself job or a standard garage deal. Thanks to Rupert Lloyd Thomas for adding that "Alleycat" was the feline pet of four guys from Morden/Epsom, their driver being Chris Wilson. The tires were rock-hard circuit-racing covers, and the driveline suffered from a rather extreme angle to the rear diff. This lovely van was written off in a towing accident.
'Imagination 4": although featherweight Lotus Sevens had their natural habitat on road circuits, this one got supercharged and front-end-hiked, in the Altered class. Rick Fielding built this racer (all versions of this car were called "Imagination"), and its motor went into Rick's Topolino altered in 1973.
'Panic' by name, and panic was probably a driver reaction with this baby, a BSA Scout chopped and channeled, with a neat little wooden pickup bed, and a parachute. Originally built by Mark Stratton as an early 'Hustler', Panic was run by the Pages: Gary, Clive, and David. BSA Scouts in the 1930's had 1200cc 4-cylinder side-valve motors. The BSA company advertised them as "low slung sports tourer for sporting people" — and British drag racing kept that motto alive.
High-class Parisian boulevard cruiser: Owners Club members may not all approve of seeing this beautiful Facel Vega HK 500 coupe being hotted-up and cut-up and painted-up for drag-racing. Today you'd better write a cheque for £75-80,000 if you want a tidy one, as only 500 or so were ever built. French and aristocratic, and so elegant, they were one of the first European cars to use big Chrysler V-8 motors. They were a "celebrity car" --- Ringo Starr had one! According to enthusiast Richard Stevens, this car was first registered 10th March 1961, originally with pale silver-grey paint. It was later rebodied (crash, 1960's) and painted BRG. An insurance write-off in 1970 probably sent it to a scrapyard, but this car and a twin were salvaged and raced by John Reynolds, until being broken up in the late 1970's. Some cannibalized parts of this car may now reside in an owner's club FV.
More: This car does still exist, chassis HK1 CE5; it was built as an automatic but with no power steering. In the ethics of car connoisseurship, the reg plate visible in the photo SHOULD be 704 CLH, the number that 'belonged with' the engine sitting under the hood of this car.
The Facel was probably the one raced by Martin Kent, who won the 1966 'production saloon' crown at Santa Pod. Facel owner and historian-enthusiast Richard Stevens has kindly sent me copious pages of information tracing the extraordinary lineage of this and another Facel Vega, which both had multiple owners, crashes, insurance write-offs, and much 'cannibalizing' and swapping of powertrains — a detective story for you if you're a Facel fan. Thanks also to Joel Goens and Martin Buckley for Facel Vega information.
This Facel, or at least a 'hybrid version' of it, is now owned in Belgium, and its new owner inherited a photo album of its exploits at Santa Pod. The album that accompanied the car to Belgium included these images:

Google caution: "Facel Vega" is also the name of a jazz/lounge/pop duo in the UK, so don't get distracted when you search. If you want to meet the car people, there's a thriving Facel Vega club.
The Drag Fest series brought big-motored door slammers such as the Dodge Boys A/FX, the K.S.Pittman Gas coupe, and the Ronnie Sox Ford A/FX.
Pat Cuss and Bill Ashley purchased this striking altered coupe that ran in the 'A Dragster' class. Brian tells me it was imported by Pete Millar. Here is the evil-looking machine below, showing its injected Chrysler motor; at the time it was named "Competition Coupe".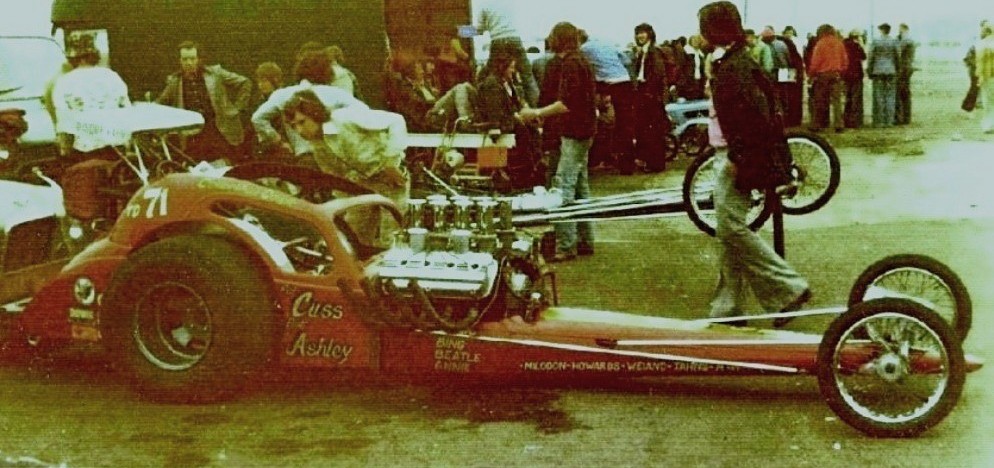 Next, three photos of the similar-but-different Crescent Coupe that Cliff Jones ran with Mike Treutlein and team. In the States it had run under the name "Chicken Coupe" The motor; then in the fire-up lane; then on a run?; and three proud racers. I had earlier confused the Crescent Coupe with Competition Coupe, but you can see the different body/window treatments; thanks to Cliff Jones for pointing this out (Cliff stays up to date with the racing scene, including taking in the 2010 Pomona Winternationals with Pete Crane.)
Knock knock: "Why does a chicken coop have two doors? Because if it had four doors it would be a chicken sedan ----".
Phil Brown adds: the Ford Pop that became Wild Thing was a 1955 model purchased for just £5. Bob and Brian, under the team name RAT FINK DRAG RACING installed a 3.4 litre Jag 6, and eventually ran 14.25secs at 98.7mph. Brian Gibson later stuffed the 327 cu.in. Chevy in, producing 11.9 sec et's and 119mph
Brian Taylor sent the photo below of the lovely Jaguar D-Type look-alike "Poison Ivy". In July 2009, Gerry Robb suggested that this is an Elva body. Elva had a splendid history, with many different renditions of the sports car body and chassis; Elva fans out there? Thanks to several Elva experts, I can try to explain the car. An Elva Mk 1 alloy body was used to make a mould, which was then used by Ashley Laminates for their Ashley sports car. An Ashley engineer then moved to Falcon with a mould, where that body style was repeated. We'll probably never know for sure whether the car shown below was once called a Falcon or an Ashley, but one expert viewer opts for a Falcon Mk 2 [illustrated].

Jim Bury sends this bundle of 1960's Santa Pod snapshots. Two photos of the wheelstanding special Corvette Stingray: First, check out that periscope that fed air to the V-8 that sat behind and beside the driver:

Next, once called 'Hustler', the John Woolfe WHISTLER , and if you look at this detail you will see Mark Stratton driving from the back seat.

Two Altered roadsters, and in the background the famous

GOOD VIBRATIONS

altered, an old E93A Pop bought for four quid and campaigned for many years by John Dickson and Roger Marchall, among many others. Another Popular, unidentified.

The beautiful "Malibu Express" dragster;
The car was originally built in 1969 by Kevin Burrows, Bob Spence, Jeff Morris and Geoff Fardell and named after the source of its Chevy powerplant. It took the guys 14 months to build and stunned the crowds with itse metalflake paintwork and enclosed streamlined cockpit. Its very first run was an impressive E.T. of 11.3 sec @ 130 mph. It changed hands and colours many times, and I believe is still appearing today.
Finally a much-raced motor shown elsewhere in this website, Travel Agent; in this close-up, look at the unusual supercharger drive, and the "roll cage" protection.




Ninety-plus dragsters / slingshots


If the words

'ingenuity'

,

'do-it-yourself'

and

'home-built'

had to be illustrated to a stranger, you couldn't do better than let them watch car builders of the 60's and 70's at work.

Thanks to Dave Berry and Harry Worrall

for the following facts and photos of the famous WORDEN DRAGSTER

.

Together with
the late

Tony Densham

, their
ace engine man, the trio met in (whose?) garage and started the process by, to quote chassis man Harry himself, "laying two tubes on the garage floor."
Tony D. was to be the only driver, so here he is doing a fitting for the seat and controls, and looking like he's already hit 100mph ---. Next, Tony watches Harry tinker, as you look at the Ford 1600 block, headless, in the frame. Here, right above the diff, is the steering box, a Ford unit tipped on its side, with an extra-long drop link to give maximum steer for minimum input. More build and race photos in no special order: 1. 2. 3. 4. 5. 6. 7. 8. 9. 10. 11. 12. 13.
Here are the three adventurers: David Berry. Tony Densham. Harry Worrall.
Worrall had earlier built a famous 750 special (the 750 Motor Club was for the geniuses who managed to make blinding fast racing cars using old Austin 7 components ---), in the late 1950's alongside Tony Densham. David Berry worked on the building of both that special and the WorDen slingshot. Later Harry Worrall worked on Tony Densham's famous COMMUTER fueler. Tony passed away in early 2008, in the Channel Islands.



Take this test: look at this photo of bystanders reacting to a dragster blasting off ---- a US top fueler, perhaps?

See whose car produced that effect: "Little Big Man". Go to http://www.stripduster.co.uk for the full and marvellous story of Harold Bull.
I have had this b/w snapshot in my files for more than 44 years, originally sent to me by Dave Maltby, young fellow-member of the BHRA, of Mickey Thompson's first visit to Blackbushe. Some related photos appear further down the page, but this nicely shows the car and the admiring British spectators.
Malcolm Dyer kindly sent scans of a 1960's Santa Pod program: the resolution is good, so enlarge them and read the familiar names! One; two; three; four; five; six. Some of us are ancient enough to recall the exceitement of supercharged "slingshot" dragsters, built in Britain, hitting 160 and 170 mph, with 8 second elapsed times — wow — People like Martin Kent racing a Gordon Keeble (later to drag a similarly aristocratic Facel Vega) — John Wright's bright yellow "Kool Kams" Bedford-Jaguar with a Rolls Royce grille. Malcolm's superb colour slides are viewable on this website: the bike engines are a joy to behold — what enginering they did back then.
Pathe News film of the Brighton Speed Trials: wild action along the narrow and not-so-smooth promenade by US and British dragsters! www.Britishpathe.com contains hundreds of old newsreel clips, both free (low-res) and for sale. Also, the first Drag Festival, which I think was filmed at Chelveston but please correct me.
Pioneer Ken Cooper's flathead slingshot "Bazooka". Barry Jackson, now in Australia, sent me the photo. Ken Cooper, "the flathead king" from Sutton Coldfield and long time BHRA devotee, built Bazooka. [Barry J. races a screaming turbo rotary engined Chevette with a soft-pedal time of 10.97 and 132 mph. ]
This photo was incorrectly labelled as part of the "Geronimo" team --- it is in fact Ken Cooper's famous flathead Ford dragster,

"Bazooka II"

and that's Ken climbing into the cockpit,

and

that's Ken's push car, probably the Zephyr that Ken got from Tony Beadle.

My thanks to BHRA Pioneer Tony Whitehouse, a long-time hot rodder and car club member, for putting me right.
Bless him, Ken Cooper is still top man in the 'World of Flatheads', and right now is building ANOTHER Ford V-8 side-valve dragster, with his son [info, and Ken's motor, courtesy of ex-stock car racer and Ford Pilot wizard Mick Gamble.]
Thanks to David Montgomery, one-time BDRA member, for the following mid-sixties Santa Pod snapshots.
Possibly the original "Worden" dragster of Tony Densham, whose 'Ambica' company name appears on the van.
Mystery car: whose is it? Thanks to Paul Hicks for spotting the "Purple Heart" dragster built and driven by his old buddy the late Clive Lingard. The V-8 is a 317 cu.in. Lincoln, driving through a Pilot gearbox, to a Cadillac rear axle. Among the coupes and doorslammers higher up this page you will see three photos that Paul also sent me, of the truly pioneering Dragons Hot Rod Club, formed in Manchester in the early sixties.
Another Allard Dragon four-cylinder job. See the curvy sports car beside it? That's an early Marcos
Ken Bunce's "Barons Barrow" with a 2.4 Jag motor, and not much rollover protection.
Whose is this Stripduster Rival?
A later version of Alan 'Bootsie' Herridge's Caddy-motored rail, V8 rail, and just visible in the background is another Dragster Developments car, John 'Hardluck' Harrison's Healey-4 rail.
Classic featherlight British work: but is that a Vicent V-twin or a JAP in the back Vinnie or Jap ?
David also sent some historic 1964 Drag Fest (Blackbushe) snapshots Allard Dragon: Garlits and the Dos/ Palmos cars pitted together:
A blurred shot of two Jag powered dragsters, one a rear-engined look-alike of Tony Nancy's 'Wedge'.
August 2011: "The Crab" was hand built in 1971 by an enterprising chap from Rugby called Ray Archer, who had earlier built a front-engined dragster called "Blunderbus" whose 3.4 litre Jag motor went into The Crab. Ray has given me the okay to put some of his photos here, but you must see his website --- the man's a true mechanic, nowadays into radio controlled planes, and there's a YouTube link for some old cine film taken from the cockpit of Ray's Blunderbus slingshot: http://www.eflightray.webspace.virginmedia.com/dragsters.html
Two colour photos of the finished car:
One
;
Two.
The ever-practical Ray says that the name "The Crab" saved money buying stick-on lettering! All done on a shoestring, with basic tools in a tiny lockup, this is a perfect example of what mechanics could do, and get their fun, in the happy days before money came into the sport. One more:
Ray's first slingshot.
SEPTEMBER 2012: Does anyone know where The Crab ended up? John Evans acquired the car from Ray Archer, and drag raced it but always with the intention of installing a Ford V-6. However, The Crab went on to another owner, along with no fewer than FOUR Jaguar engines, and the V-6 went into a T rod. John meanwhile acquired and ran a V-8 Buick engined slingshot. John has a wealth of memories about motor parts and scrapyards, including the Maidment brothers of Southampton, who raced in Spedeworth.
Tony Densham's COMMUTER, the fueler that used the Ford engine from the Mickey Thompson fueler // Harvey Aluminum dragster. NOTE: despite various legends, the Commuter was not the re-bodied Harvey Aluminum car; its frame was entirely new.
July 2011: The Commuter lives! Thanks to Antony Billinton of G-Max in Northants for these two great photos of Commuter. The dragster lives on in absolutely stunning condition, still belonging to the Billinton Family. [High-res photo courtesy of Roger Phillips]. Peter Billinton on the far left, partnered with the late Tony Densham 40+ years ago in running this dragster. They also established the G-Max company supplying chemicals from A-Z, with, naturally, nitromethane under N! Check their website: www.gmaxresearch.com. Back In 1968 a young Antony was pleased to grab Commuter's controls, brrmm brrmm. [photo by Mike Collins]
Next is The Commuter cooling down after a run in the hands of Tony Densham; this used the 427-inch Ford motor from the Mickey Thompson / Harvey Aluminum car. Look behind it and you can see the wheelstander Corvette of Roy Phelps / FibreGlasss Repairs. Then, the archetypal British snapshot (I took dozens) a glimpse of Commuter through the fence rails.
Doing things the hard way: John "Hard-Luck" Harrison was a determined man. Not satisfied with his first Dragster Developments carbureted Healey rail, which earned him the nickname, he went overboard with this beauty: TWO Healey 4-bangers, and BOTH motors were supercharged . Apparently Harrison had based Twin Jinx on the famous double Freight Train, specially designed for two motors. Oh-oh, look what happened: a big fat 429-inch V-8 was dropped in it in 1999, producing 10-second runs, and the owner, Dave Armstrong, tells me that's being tossed out for TWO 318-inch MoPar V8's —. Dave's dragster has passed to buddy Alan, with plans for a big-block Chevy.
Two more slingshots: in the background Keith [or Ray] Elliott's Red Witch, a classic Jag rail, and the little rail is the original WorDen 4-banger dragster. Glen Tyzack worked on the WorDen — built by Tony Densham — a 1500cc from a Ford Classic, on methanol, with a home-built injector Glen made out of an Austin oil (gear) pump! Stock gearbox running 3rd and 4th. Its back wheels were from a 'D' Type Jaguar of all things. See the Jowett Jupiter push-car? (the rad grille proves it's the open Jupiter sports, not the Javelin saloon). Nearly half a century before the Subaru, Jowetts were running a hot twin-carb horizontally-opposed 4. Rare and desirable, and yet amazingly the prices are as low as 10-15,000 pounds today. They only ever built 900 of them, and folks like John Surtees and Peter Ustinov owned Jupiters.
Thanks to Peter Hyde for the following vintage 1964 photos he snapped at the Blackbushe round of the first "International Drag Festival", and at Santa Pod, Duxford, Debden, and Blackpool:
The classic sixties' dragster format: Tommy Ivo, who managed to coordinate a television career with a drag-racing career, brought over this candy-apple red fueler. It obviously bewildered the young gent in the cap trying to look like Rolling Stone Keith Richards.
Here Peter snapped Tony Nancy's revolutionary (but not completely successful) rear-engined "22" dragster. I had forgotten, but Peter reminds me that this car too crashed and disintegrated. Nancy lost his other front-engined rail at the Chelveston round when Danta Duce borrowed it for a run --- and ran it into the 1/4 mile marker barrels -- I was there and I can still remember the BOOM as it smashed into the sand-filled oil drum.
Last, a snapshot of what in 1964 and 1965 constituted a sort of 'standard British dragster', given our engine supply in that era: a Shorrock-blown Jaguar. Can anyone identify the car and its driver?
Alan "Bootsie" Herridge was a hero and is missed by those who recall the rough 'n' ready early days at Podington, Gravely, Duxford, Blackbushe, etc. Here's his second rail, "PULSATION" , a Caddy. The BHRA had a car show in the grounds of Woburn Abbey, which I think was the first appearance of "Pulsation", and my fuzzy camera work does not quite do justice. As usual with any snapshot from the mid sixties, we see the traditonal mum + dad + kid in their Sunday best casual --- what innocent times. Alan had earlier run an amazing rail with a 1930's straight-8 Buick motor, blown on alcohol; I think it just squeezed under 12 seconds before smashing its pushrods.
But here is the fancier and more famous 1970's rig Firefly
Hayes, Middlesex, was a Mecca for racers. The "Dragster Developments" team was behind Herridge, and their other star was John "Hard Luck" Harrison, who campaigned neat and tidy machines like this 4-banger Healey slingshot [Blackbushe 1965-66]:
I wonder if it's Herridge in the car? Those two worked and raced together, and the helmet, goggles, and posture look like Alan's in the Caddy photo above ---?
Here come five more home-builts; not fancy, but they were part of that magic era when someone walking through the pits could imagine building a racer in the back garden.
Nobby Hill's "Hound-dog" Jag-powered slingshot;
to be fair, Hounddog was high up in sophistication and fabrication for those days.
.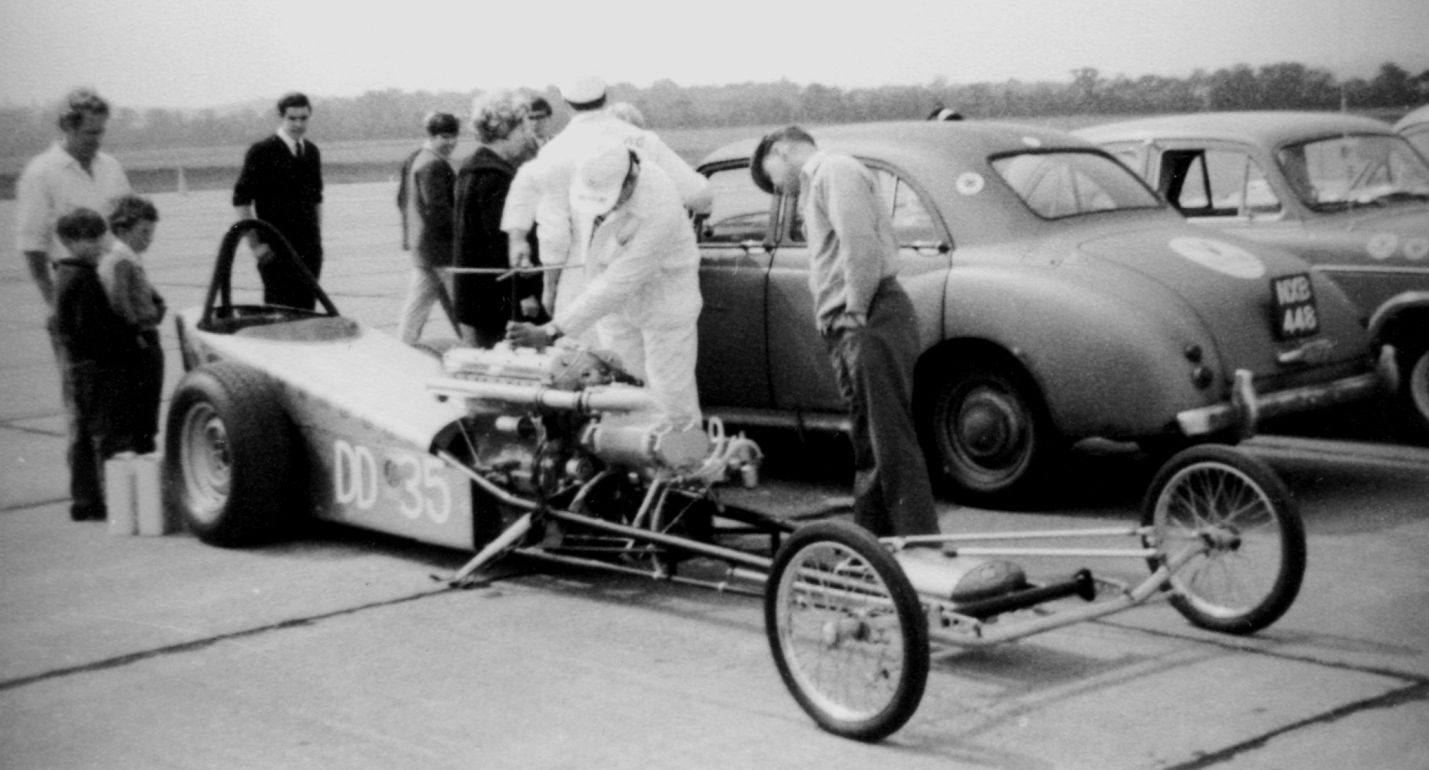 Next: four more basic "oldies" : two with simple carburetted V-8s, then an even simpler Jaguar bolted into a basic slingshot frame plus plenty of bright paint; and a pocket-size "rocket".
then Oldie #2,
and Oldie #3 which was built and driven by Jeff Theobald of Exeter. Note: in the far background [you can enlarge the photo] is a low-slung sports racer that is quite rare: an Allard "Farrallac" built in the 1950's, some of which used big 6.4 litre V-8's --- Cadillac of course. One of these --- perhaps this one -- famously blew a clutch, shrapnel from which pierced the hood just ahead of the driver.
Below we see the "Weekend Warrior II", of Alan Blount, whose name appears with team colleagues Marriott and West on the Bedford van. The chap in the tie and cardigan gave me a lift to the track that day.
Thanks to Michael Tickner for these pics from 32 years ago. Rivalling the multi-name Californian teams of that era, these guys were the Fry-Tickner-Sturgess-Siggery team . A beautifully simple slingshot powered by an injected Oldsmobile. This was Britain's first unblown dragster into the 9-second bracket, which won Mike a whole entire £10. The press piece is by Brian Sparrow, who I recall drove a MiniCooper at permanent valve-bounce.

Next a shot of the motor.
Mike in the hot seat. Later the car was handled by John Siggery, the crew chief in 1969, with great success. Eventually they "tipped the can" to 85% nitromethane and ran 9.52 at 156 mph.
Racer's View from the roll cage.
Waiting for a dry track at Santa Pod with the crew: Mike Tickner on the right, John Siggery 3rd from right.
Geronimo waiting for its alcohol while driver and crew refuel themselves at their favourite pit stop, the Chalkdrawer's Arms in Colney Heath, Herts.
-------------------------------------------------------------------------------------------------------------------------------------------------------------------------------------------------------------------------
Alan Allard being pushed. The front-mounted blower indicates that this old 354 hemi engine comes from Alan's dad's pioneering British slingshot, circa 1961/2 (Sydney Allard, builder of those sports cars of the 40's and 50's.) Alan's slingshot
Can you identify this dragster? Thanks, Nick Cleveland. It's the Stones' HEMI-HUNTER, and the shot is either 1975 or 1976; they ran it in Pro Comp and later added "fuel".
A Blackpool racer in the 1960's, Paul Manders, raced a Jaguar-powered stock-car but wanted to tackle something trickier. A double-supercharged Chrysler dragster: an advanced bit of engineering (two blowers mounted transversely over the vee. Here it is under construction, but I don't know the rest of its story. Blackpool Slingshot. In 1988, Paul ran a funny-car, hitting 188 mph in 7.5 secs.
Allards tried to retail ready-made dragsters, but it didn't catch on big among England's do-it-yourself maniacs; here's their little blown Cortina-engined Dragon Doug Harler, now of Knoxville, Tennessee, tells me he ran one of these Dragons in "middle dragster" class, and pushed-started it with a ferocious Dodge Charger, which he also dragged: probably Britain's "fastest push car" in those days.
Mickey Thompson brought his slingshot to Britain in 1963, 488 cu.in Ford, bewildering the natives, ahead of the big-money "INTERNATIONAL DRAG FESTIVAL" invasion the following year. [photos from Dave Maltby, BHRA member back then].
Thompson left it in England, in storage. In 1964 the BHRA brought it to Perkins Diesel Open Day at Peterborough, and here I am as a skinny youth (left) with Dave Withers, scrubbing off the oxide that forms on magnesium.
See the little Allard Dragon behind? Blown Ford Cortina 1500cc 4-banger motor. Look at our clothes. Can you imagine any 19-year olds nowadays, going to a HOT ROD show in slacks and sports jackets or suits? — this is 46 years ago.
Alan Allard son of Sydney: The front-mounted blower and motor came off Sydney's pioneering slingshot. English rain didn't stop them.
Alan Allard vs The Chev: Blackbushe airport when they had to run some cars for the hungry fans, despite an insanely wet track. The Chev is the Gary Goodnight team car, here run by an English racer.
"Dos Palmos" [above] was raced at the 1964 Drag Festival by Bob Keith, who in 2009 is restoring the fabulous Kent Fuller fuel dragster that Bob ran in the 1965 Fest, and which will be preserved in a new Australian drag race museum (Bob ran the Fuller car in Oz . in 1966). Kent Fuller is helping Bob Keith with this project. [Thanks to Bob Keith for this info.] BTW, Bob is trying to contact Bill Weichelt (below) about the Dos Palmos rail --- anyone who knows Bill W. please e-mail me.
'Asmodeus' was just one of the names attached to the original 'Dos Palmos' slingshot during its life in the UK. Bob Keith/ Gary Goodnight brought it over for the '64 DragFest, then it went to Croft Racing Partnership, and then to the UK-based American Bill Weichelt, and crewed by the Pages. Bill for a while lived in Ipswich and built limited-production sports cars called Tridents (based on TVR's). Both Bill and the dragster eventually returned to the US. Thanks to Chris at TRAKBYTES and Gary Goodnight for that info.
The unofficial blessing of Britain's newborn drag-race scene was the visit of US racers for the DragFest series. Anyone in the UK back then who knew the term 'drag racing', also knew the name "Big Daddy" Don Garlits, who was the ultimate ambassador. No-one who saw those events ever forgot it. For me it was the Chelveston round, and locals talked about it for the rest of the year.
APRIL 2014 info update below:
Garlits's car weighed only 1320 lbs — nowadays NHRA fuelers must weigh a minimum of 2300 lbs — effectively they are carrying 1000 lbs of weight penalty. [The late Sneaky Pete Robinson in the 1960's built a scary top fuel car that weighed only 980 lbs.]
See that push-van? It had a Thunderbird V-8 motor, and remained in the UK after Garlits left. Alan Mann Racing, who brought over a group of Ford Falcon rally cars from Holman & Moody for the Monte Carlo rally, accompanied by a fleet of six Ford ECONOLINE vans. The van above was a "special" fitted with a 390 cu.in. V8. In this photo, to amend my previous notes, the driver is sports and saloon racer Roy Pierpoint, Alan Mann on the engine cover, and Roy's wife and daughters. The vans remained in Britain under various ownerships. Goodyear Racing Tires also had a V8 Econoline with a 302 motor, and it's likely that's the one I referred to here, writing a few yrears ago: It was still famous around North London in1968, when a workmate of mine was scorching its clutch and tires — people would lean over at the traffic lights and offer cash-on-the-nail for it. Future 'Geronimo' pilot Michael Tickner is second from left in front of the fence, sweater and white shirt: four years later Mike was racing an unblown Olds slingshot at Santa Pod. My thanks for the update to John Grant, a one-time Alan Mann staffer who also built Spedeworth engines, knew the Wardroppers, and restores historic racers in the UK and Holland.
----------------------------------------------------------------------------------------------------------------------------------------------------------------------------------------
A shot of Hemi-Hunter vs Roz Prior. She (Roz) was British champ that year.
Next, the great Don Garlits, rear-engined, at Santa Pod, mid-1970's.
Norm Hill's Asphalt Alligator — thanks to Gary Tindle for these 70's photos, and to Nick Cleveland for identifying via magazine shots.
Tony Nancy "22": here at the International DragFest 1964, this gas dragster known as The Wedge was still fighting the handling gremlins that plagued rear-engined designs throughout the years until Garlits figured it all out. Nancy also brought over a beautiful front-engined rail, ( It was the one called "22 Jr" ) which he naively loaned to Dante Duce, a stranger to Tony, for the Northamptonshire round — and Mr Duce drove it smack into the 40-gallon marker barrels at the end of the quarter — KABOOM, everything forward of the engine block was smashed off. Thanks to US team member Gary Goodnight for correcting the car numbers. Gary was with the Goodnight-Keith-Williamson AA/GD team.
A year or two after the first Drag Festival, the American Barnes team brought their "Ultrasonic" fueler to Santa Pod:
Above: check the extreme caster (kingpin) angle that required the pit crew to force the front wheels back upright by hand when it was moving at walking pace. Another shot of "Ultrasonic", from Mal Hawkins.
I snapped this shot with my 48-shilling Brownie Cresta — lots of panning and darkroom fudging. Mal tells me that Bud Barnes is rebuilding the car for nostalgia races.
Same year, a Blackbushe press photo of a wheels-up burnout by the Danny Ongais's "Mangler" provided an education for new-to-drag-racing Brits.
The pioneering British drag racers were famous for their backyard ingenuity. Here is a little slingshot powered by a Bristol 2-litre 6-cylinder motor, built by Colin Glass. In the background is the tiny "Wicked Lady", powered by a 500cc single Rudge motor, of Tony Gane. Here is the 1966 US team's "Ford T" bodied dragster pretending to be a Ford Model T roadster.
Mooneyes came to the UK and ran 9.99 secs, 164 mph on gas. Fibreglass Repairs built the first body on John Dodds' insane Merlin/Spitfire-engined road car. See http://www.spainvia.com/Merlincar.htm for the rebuilt car today in Spain.
More Mooneyes.
Many years ago, probably 1980, I snapped this shot of an alcohol dragster leaving the line at Seattle International Raceway, USA. I kept it because of the dramatic tire distortion visible --- compare the top left of the tire with the bottom.
Brian Lucas photographed Clive Skilton's Garlits Look-Alike car in the pits, named 'Second Revolution', in which Clive hit the UK's first-ever 200mph terminal speed. The dragster was later run in the Pro Comp class by Steve Read.
Thirty drag bikes
Thanks to Peter Cozens for identifying this low-slung screamer shown below:
A very patient young woman there; does the guy appreciate how fortunate he is? It was built and raced by a young man named Adrian Reynard from Oxford Polytechnic, apprenticed to veteran sprinter George Brown. It's a Royal Enfield motor that Enfield had abandoned after they quit road racing. Adrian broke some world records at Elvington on this bike in 1970-71, using a longer fairing. Adrian Reynard's story goes like this:
Designed and built the Reynard Formula 3 car, which won its first race from pole position.
Designed and built the Reynard F3000 car, which won its first race from pole position.
Designed and built Reynard Indy Champ car, which —- yes, true. Jacques Villeneuve won the Indy championship in a Reynard.
Adrian later worked for BAR, Honda, and a slew of others, and is running huge race engineering shops in the USA.
Here is another single-cylinder drag bike, but this one has a 4-stroke motor with a blower. Anyone know it?
"Only in England", eh? Take a Lambretta scooter and stuff a Triumph twin in it. It's a 500cc motor, and Keith Lee was the intrepid rider.
MARCH 2016 UPDATE: 45 years after that pits photo was snapped, here is the scooter as returned to Keith from a later owner:
Keith Lee writes:
"That shot must have been taken just after I had been thrown off it following a wheelie away from the line - hence the rather odd handlebar angle! I managed to buy new forks, and got it running again for the following day's eliminations at Santa Pod. That must have been 1971. I raced the bike for more than 2 years, after which it became Robin Read's first vehicle to race as part of the Readspeed team. He wisely moved on to 4 wheels after that. I was quite involved in the sport for many years, and am just completing the first book on drag bike racing in Britain, which looks back at the first 20 years of the sport as it developed. It is due for publication in September. "
It's done: Keith Lee's fabulous nostalgic book, loaded with high quality and unique photos, is on sale now. It is a treasure chest of facts and stories from people who were right there. Get it from Veloce Books --- www.veloce.co.uk
Double-engined supercharged Triumph, with a narrow rear tyre. Nice piece of work.
Weird-looking frame/panels on this experimental Triumph drag bike. Identities, anyone?
Photo of a Vincent sidecar combo. This was a successful circuit-racing outfit, Martin Davenport and Bernie Booth from Coventry racked up over 100 race wins and some club championships, and were Vincent re-building specialists in the 70s.
Clive Waye's landmark piece of engineering, the Drag-Waye, ridden here by Howard German, 1964. Do I remember right, that Clive used some aerospace engineering techniques, electron-welding or something for the con-rods? Anyway, it's a flat-four VW motor, and the simple notion of copying the slingshot format had never occurred to anyone else — Thank you Bill Taylor.
Peter Hyde photo: If you ever came across a unique book called Supercharging Cars and Motorcycles", it was written by Maurice Brierley, an ex-army scientists at De Havilands, who built and raced this supercharged 1148cc "METHAMON" Vincent.
In 1965 or '66, here is the famous Neville Higgins on his supercharged Vinnie 10000; Neville usually named his bikes "Jindivik" after a brutal mythical Norse monster.
Peter Hyde himself, racing at the Pod in 1966, on his sidecar outfit: so stripped-down-basic that the "passenger" was 140lb of iron weights — maybe he couldn't pressgang any volunteers. Peter points out that for world records, a live passenger was obligatory; Peter himself took perhaps the world's LOWEST dragstrip ride at Elvington in Yorkshire when he volunteered as passenger on a sidecar sprint outfit.
Peter's bike at Blackpool. You are looking at a works Matchless scrambles engine, GS80 500cc. single-cylinder. "Severely re-worked" is Peter's description of the motor. That Castrol R bottle is the fuel tank. The 12.5:1 compression and 'untunable' DellOrto carb were on the limit for petrol, and when Peter upgraded to methanol the next day, he ran a scary 15.6 second time over the cracked and lumpy Church Lawford runway, and you'd better remember that that time would beat a then-new E-type Jag.
Love the name: "Quasimodo" supercharged Triumph, tank-in-frame-tube. Charlie Rous was the rider, here at Debden in 1964. See the blurring spokes. Charlie was a journalist for MOTORCYCLE NEWS, and had ridden a Vincent streamliner to over 100mph at the Brighton Speed Trials. (In that same era I watched a "Quasimodo The Hunchback" wrestle against "Giant Farmer Haystacks" at Wellingborough Drill Hall, in the 5-shilling seats, and the Farmer fouled and there was a small riot; we believed everything we saw, too.)
"The Lads": Peter is at the left, with his bike #145. The arms-crossed chap is Ron Holland who today is helping a Bonneville streamliner project (V-8 motorbike). Bike 144 is "Geronimo", with Pete Dodd in leathers; it has a 500cc Velocette Venom thumper on nitro and ran in the low 14's. Peter Hyde had the daring pleasure of a flat-out passenger ride in this outfit at Elvington in Yorkshire. Thanks for those photos to Peter Hyde.
"Moonraker", rider Ian Richardson, was a lovely piece bit of British do-it-yourself genius: a 2,000cc flat-four engine built from four Manx Norton singles, with a custom DOHC head, all built by Butterworth's the engineers.
Nick Meikle later supplied a supercharger for this bike (it wasn't powerful enough?): a Rootes/Wade diesel blower. Photo taken in 1967 at Santa Pod by Mal Hawkins.
"Red Baron" was Mal Hawkins' own piece — who'd have thought of feeding a 50cc (that's fifty) Honda on nitromethane and methanol? Mal did it, in 1968, and forced the little screamer to a 19.8 second quarter mile e.t. Pretty good when you know that the Dutch Kreidler factory put their works GP rider on their best GP 50cc and managed 17 secs. The tiny motor had an 11:1 compression ratio (shaved head), and drank nitro @ 50% ratio.
Pegasus was a supercharged and twin-motored Norton with a blower, run by Derek Chinn and Ian Messenger The bike is now in the National Motor Museum, I believe. Pegasus
Here's a different twist on the same story, with Triumph power; Steve Kimberley spots maybe a Weslake bottom end, which he says would finally keep Triumph rods from scattering across the strip. Triumph Twin-Twin. Now see below ---->:
Thanks to the keen eyes and keener memory of

Pat Neal

, who reports that the double Triumph device was built by

Fred Wells,

who ran a motorcycle shop in Kent. Fred installed two Triumph 500 twins in this bike, and brilliantly incorporated the blown intake charge from the front-mounted supercharger

through the top frame tube

to feed the two engines. Fred further demonstrated his ingenuity by building, of all things, an ovebored Triumph Cub (236cc) that burned 75% nitromethane. If motorcycle fans in that era put "Cub" and "con-rod" in the same sentence, it was usually to describe a major blowup. Fred's son Steven went on to m'cycle road racing success. Pat Neal and his father used to compete in sprint events at Duxford, and Pat later got into pro stock and top fuel racing with Steve Wollatt. Pat also raced a Manx Norton and a TZ350. Like myself, Pat is now on Canadian soil, where his wife Linda has moved on from winning in Formula Atlantics to running a deafening alcohol dragster at 170mph in 8 seconds.
Don Hyland brought his lovely, simple twin-motored Triumph drag-bike to Britain in the mid-1960's.
The next bike is all BEAST. Its rider claimed to have 40mph of wheelspin while travelling at 120mph. Direct drive chain from a big reduction-gear straight to the back wheel. He started it on power rollers, then pushed it on its roller-mounted jackstand to the line; he simply kicked the jackstand over-centre at the green light. Recognize a V-8 Chevy Corvette fuel-injected motor when you see one?
In April 1999 I spoke to E.J. Potter, when he was planning a once-only comeback appearance at the age of 57 with "The Widowmaker" V-8 bike.
I told him about my old snapshot, shown below. "Was that the time I hit the wall?" Potter asked. No, I think that happened a few days later, and his book has a photgraph of the nasty result. He said the engine used to shake something rotten because it had no flywheel — really the spinning back wheel had to act as flywheel. Buy this book, see his Allison-engined station wagons, his jet trike, his electric "slot-car" Austin. It has photos of his insane machines, and hilarious tales of his stunts on the track and in his workshop; a fantastic read.
E.J. Potter is no longer with us, but at the time this book was available from PO Box 968, Vero Beach, Florida 32961.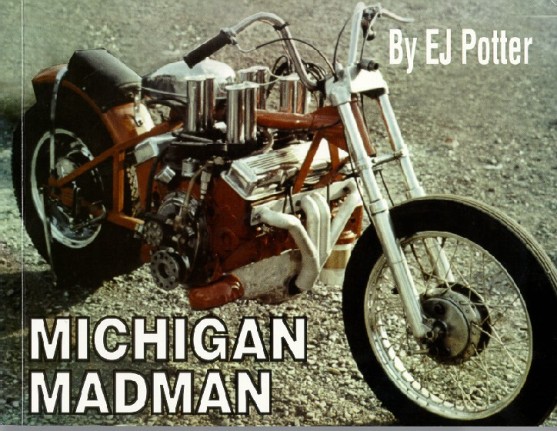 Here's Madman Potter burning off the line at Santa Pod, courtesy of Mal Hawkins: Smoke Show.
And here is a my terrible fuzzy photo, the excuse being the distance and the little plastic camera in my shaky hands.
========================================================================================
Light, low, simple; Yamaha twins were fun to watch and didn't need a professional to engineer them. Santa Pod in the mid 1970's:
Three snaps from a Santa Pod qualifying day June 1999:
A Dutch builder/rider brought over this overhead-cammed V-twin of 1600cc capacity, blown on nitro, V-twin.
Same huge capacity for this Parallel twin which was "home-built" on CNC machine tools.
Check out the tire on this 4-cyl fueler. Fat-tired (I think it's Steve Wollatt, who I saw run 6.9 secs and 196 mph on a damp track. Steve can run the 1/8 mile in 4.4 secs at 161 mph, and do the first 60 feet from standstill in ONE SECOND.
Some British fuel bikes (try the great Brian Johnson) have hit a stunning 194 mph in 4.04 secs in the 1/8 mile. Brian Johnson did 234mph in 6.12 secs in 1999 [thanks Neil Smith for the updates].
Please e-mail me if you have drivers and data for any cars I've wrongly described on this page.
The biggest, best, and most intelligent book on drag racing:
Robert C. Post: "High Performance: The Culture and Technology of Drag Racing 1950-1990",
published by Johns Hopkins University Press, in the US.
The ISBN is 03020100 999897969594 5432.
The author is a technical historian at the Smithsonian Institute in Washington DC, but also a lifelong drag-racer. He has photos you won't believe, including the horrifying 1970 Garlits clutch explosion at the instant his dragster was being cut in half by the blast. Not a cheap quickie survey — about 400 pages, and costs a bit, but has fascinating quotes and interviews with everyone from the fifties on, and very thoughtful analysis of why people build and race dragsters.
A few Hot Rods: England catches the US tradition
John Wright, a Lincolnshire farmer and flier owned this (bright yellow) creation, and brought it to a Peterborough (Perkins Diesel) Show 1964. Wide-open-exhausted Jag motor behind a Rolls-Royce rad.: Jaguar/Rolls/Austin pickup hot-rod.
Next is the same car in stripped drag-racing guise at Santa Pod: drag pick-up.
His brother Richard Wrightdrag-raced and street-drove a Caddy-engined "T" rod, Cad-Rod . I saw this in a road-going "coupe" form, at the British Hot Rod Association AGM in South Norwood, London, with six chrome motorbike silencers bolted directly to the ports. Here's the same car in (barely) road-going guise: Someone tells me that this beast could be seen rumbling along the public roads, as you see it, to Santa Pod Richard's Coupe
Geoff Jago of Brighton built this metal-flake convertible Ford Thames van-cum-pickup; sorry for my blurry photo. This stuned the crowds at Woburn Abbey in 1964/5. It was once a "perpendicular" E93A Thames van. Geoff Jago also raced stock cars, winning at Southampton's track back in 1959.
Jago's Rod again.

This shot taken at a unique 1965 BHRA car how in Hyde Park's then-new underground parking lot.
As of 1999

apparently this car had been kept in storage for over 20 years and is still as gorgeous today.
If you were around in the early 1960's, there was the BRITISH HOT ROD ASSOCIATION, before the BDRA and BDHRA. BHRA chairman John Bennett prep'd his Pontiac by pulling out the back seat and spare wheel, and unhooking the power steering. (His wife Anne raced it too.) Another pioneer was Ken Cooper, who was a devoted 'flathead' engineer, and raced a side-valve (Ford Pilot) slingshot to prove it. Here is his earlier — perhaps England's first — hot-rod, a 1933 Ford 40 with a '32 grille and flathead V-8 Ford power. A super-nice guy and a brave pioneer, Ken drove this on Midlands streets 45 years ago. Ken Cooper's V-8 Roadster
Eagle-eyed Brian Lucas idntified the bodywork dates — Brian is a long-time hot-rodder and he runs a '32 roadster with a modified flathead motor. Thanks Brian.